Recent News
Tall Guns has been awarded the right to use the By Colorado logo by the byColorado licensing program. This signifies companies that are based, design their products and make their products in Colorado. (10/2014)
Colorado West Firearms Institute has joined the Tall Guns network Affiliated Independent Instructors licensing our Colorado Handgun Permit course program serving Colorado West from the Grand Junction area. (10/2014).
Tall Guns announces a price reduction in its combined Colorado and Utah CCW/CFP Course. The new price is $99.95 for both highly valuable permit course. (08/2014)
Tall Guns now offers certification training for security officers in firearm, baton, handcuff, Taser and OC Spray. (05/2014)
Tall Guns is actively instructing courses at this time (June 2020).
To support the ongoing efforts to control COVID-19, Tall Guns will be limiting class sizes to eight (8) persons. (16 Mar 2020).
Tall Guns is certified as the only TASER certified civilian training academy location in Colorado (10/2012)


Products We Offer
Gift Certicates, Blue Books, USCCA Reports and online course enrollment
can be purchased online all other items are store or phone order only.

To order products not offered here please call us at 970-619-8154, email info@tallguns.com or stop by our office
at 2004 W 15th St Suite 6 Loveland,CO 80538
Click on an image below to go to the specific product or just scroll down the page. (ALL PRICES DO NOT INCLUDE SHIPPING)

You can also come by our training center and retail shop!


Taser Pulse and Bolt (C2)

Gift Certificates

Traveler's Guide to the Firearms Laws of the 50 States

Storage Cases


Second Call Legal Protecton, US Concealed Carry Reports & Blue Book of Guns

Boresnakes Cleaning Supplies



Transfers


---
---
---
---
WEB AND STORE PRICE
$12.95 MSRP $14.95
Traveler's Guide to the Firearms Laws of the 50 States


written by J. Scott Kappas, ESQ.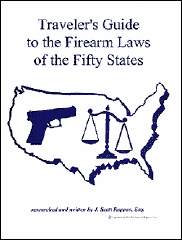 Attorney J. Scott Kappas uses case law and statutory authority to render plain English advice as to how a traveler should carry firearms while visiting the many states of our great nation. Kappas' book is not simply a restatement of the statutes. It is an easily readable narrative designed to unlock the complexities of state firearm laws. Over nine hundred thousand readers agree, the
Traveler's Guide to the Firearm Laws of the Fifty States
is indispensable for staying on the road and out of jail!
Answers to common questions:
Which states allow me to carry a "loaded" firearm in the passenger compartment of my vehicle?

Which states allow me to carry a concealed firearm with or without a license to carry?

Which states honor my permit to carry a concealed firearm?

Which states' laws allow open carry of a firearm while on foot?

Which states prohibit the mere possession of a handgun while in a vehicle?

In which states is it better to carry a rifle or shotgun for personal protection?

Which states prevent localities from regulating firearms carry?

How can I legally possess firearms in National Parks and Forests?

How can I transport firearms on commercial airline, cruise ships & trains?

How can I transport firearms through a state that prohibits any gun possession?

How do I carry a handgun on a motorcycle?

Which states guarantee my right to self-defense in their statutes?
---
Storage Devices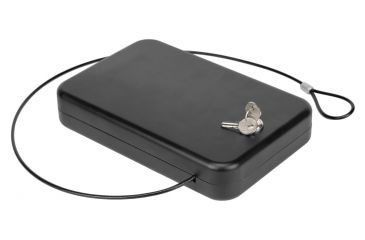 A portable, key operated handgun storage safe that fits discreetly in a bag, under a vehicle seat, in a desk or a briefcase. Its an extra measure of safety and security for travelers and concealed weapon permit holders. 1" memory foam protects the gun during travel, and the case meets TSA airline firearm guidelines. Constructed with heavy gauge steel. Includes a 1,500lb security cable for temporary attachment to a secure object.
An excellent solution to secure your firearm or
valuables in your vehicle
---
Second Call Legal Protection,Concealed Carry Reports and Books
---
WEB AND STORE PRICE
Call For Pricing
Gun Tote'n Mamas Concealed Carry Handbags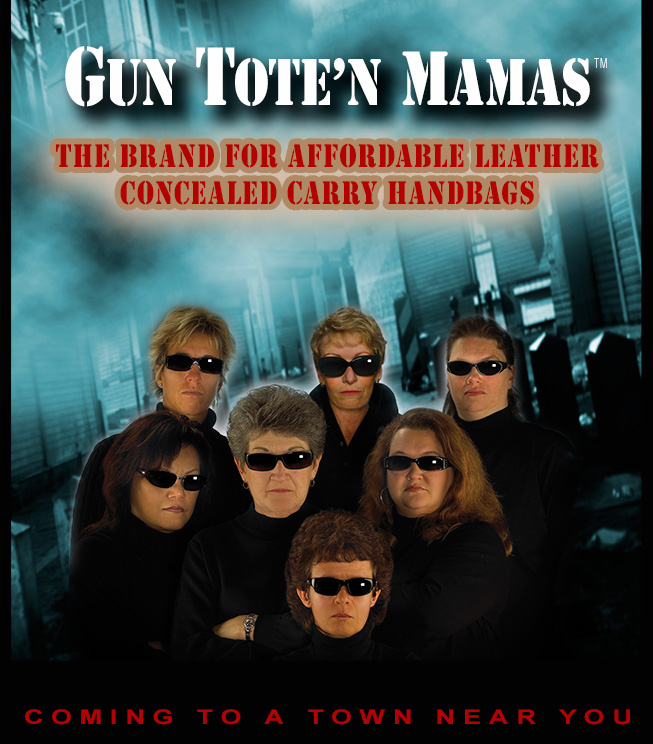 Finally, concealed carry handbags with fashion, utility and uniquely affordable! Designed by women for women.

Available in these colors (not all products have certain
colors and color availability subject to change.)
Concealed Carry collection ranges in gun size carry ability so there is a perfect bag for that certain gun size.

Full grain tumbled and dyed through leather. Featuring Slash Resistant shoulder straps designed with coated wire.

Concealed compartments feature nylon coil zippers that can self heal, extra stitching and binding on all seams and lining that will not fall over the concealed gun.

Lightweight yet durable for years of regular use. Leather will get softer with age to a stunning subtle gloss.

Overall design is perfect for everyday use — and may become your favorite handbag!

All bags are fully lined with nylon.

YOU FIND THIS GREAT LINE OF OFF BODY CARRY PRODUCTS ARE ORCHARDS ACE HARDWARE or SCHEELS.
---
Cleaning Supplies
The BoreSnake
Hoppe's® BoreSnake is the fastest bore cleaner on the planet. One pass loosens large particles, scrubs out the remaining residue with a bronze brush, then swabs it all spotless with a cleaning area 160x larger than a standard patch. Add a few drops of lubricating oil and your gun's ready for storage.
- The world's quickest, three-step bore shine.
- Extremely packable.
- Available for rifles, shotguns and pistols.
- Brass weight on the pull cord is stamped with the size.
- Machine washable.
- Patented one-piece design.
---