Recent News
Tall Guns has been awarded the right to use the By Colorado logo by the byColorado licensing program. This signifies companies that are based, design their products and make their products in Colorado. (10/2014)
Colorado West Firearms Institute has joined the Tall Guns network Affiliated Independent Instructors licensing our Colorado Handgun Permit course program serving Colorado West from the Grand Junction area. (10/2014).
Tall Guns announces a price reduction in its combined Colorado and Utah CCW/CFP Course. The new price is $99.95 for both highly valuable permit course. (08/2014)
Tall Guns now offers certification training for security officers in firearm, baton, handcuff, Taser and OC Spray. (05/2014)
Tall Guns is actively instructing courses at this time (June 2020).
To support the ongoing efforts to control COVID-19, Tall Guns will be limiting class sizes to eight (8) persons. (16 Mar 2020).
Tall Guns is certified as the only TASER certified civilian training academy location in Colorado (10/2012)


NRA Basic Instructor Training (BIT)
Every NRA Instructor Candidate must take the NRA Basic Instructor Training (BIT) once in their career as an NRA certified instructor. This course is designed to introduce and educate the candidate in the NRA methods and principles of training, course management and doing it the NRA way. The NRA requires its material be taught using a specific methodology and techniques and this course educates the candidate to them.
The NRA has specific material usage and administrative reporting requirements that a certified instructor must follow and the candidate learns about these.
Through the use of lecture, role playing and in-class exercises the candidate has the opportunity to apply these during this course.
The BIT course consists of six (6) hours of training, utilizing the NRA Trainer's Guide. During the class, candidates will learn:
NRA policies and procedures
basic public speaking skills
NRA training methodology
the importance of Total Participant Involvement (TPI)
use of a training team
use of training aids
organizing a course
building a budget
use of NRA logos and copyrighted material
material ordering
administrative requirements
and finally preparing to teach.
At the end of this course, there is a written examination that the candidate must pass with a ninety (90%) percent or better grade. Demonstration of proper attitude as evaluated by the Training Counselor(s) delivering the course is a crucial component of passing the class.
Previous training in the NRA Law Enforcement Education Program (LEEP), NRA Certified Range Officer training, POST certification, military instructor training or other instructor certification cannot be used to replace this requirement.
This course price is all inclusive for all course materials and instructional aids. Additional cost are only for NRA certification fees.
We provide you two options at enrollment time for payment, pay in full or only make a deposit. Payments are non-refundable, but if you are unable to make a course, it will be credited fully to a course at a future date.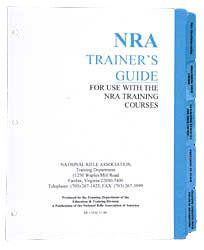 No Classes are currently scheduled. Please call 970-619-8154 or email us at Info@TallGuns.com to inquire about scheduling a course.