Recent News
Tall Guns has been awarded the right to use the By Colorado logo by the byColorado licensing program. This signifies companies that are based, design their products and make their products in Colorado. (10/2014)
Colorado West Firearms Institute has joined the Tall Guns network Affiliated Independent Instructors licensing our Colorado Handgun Permit course program serving Colorado West from the Grand Junction area. (10/2014).
Tall Guns announces a price reduction in its combined Colorado and Utah CCW/CFP Course. The new price is $99.95 for both highly valuable permit course. (08/2014)
Tall Guns now offers certification training for security officers in firearm, baton, handcuff, Taser and OC Spray. (05/2014)
Tall Guns is actively instructing courses at this time (June 2020).
To support the ongoing efforts to control COVID-19, Tall Guns will be limiting class sizes to eight (8) persons. (16 Mar 2020).
Tall Guns is certified as the only TASER certified civilian training academy location in Colorado (10/2012)

NRA Pistol Marksmanship Simulator Training


The NEW NRA Pistol Marksmanship Simulator Pistol course teaches the basic knowledge, skills, and attitude for owning and operating a firearm safely. This course is designed to provide an individual the experience to learn the basics of firearm safety and shooting skills in a classroom environment using state of the art computer based simulation. This environment provides an individual a learning opportunity where live fire is not a requirement.

The simulators used at Tall Guns are used by law enforcement, the US Military, shooting sports competitors to improve skills and accuracy with various firearms types.
This course is at least 2.5 hours long and includes classroom and simulator range time.
Students learn:
NRA's three rules for safe gun handling
shooting fundamentals

breath control
hold control
sight alignment and sight picture
aiming
trigger control
follow through

range rules
shooting from the two handed standing position
and continued opportunities for skill development and courses.
Students will receive the:
Tall Guns course book
NRA course completion certificate.
The scheduled class is taught at our Loveland, Colorado facility.
(Lesson Plan 1st edition, 2014).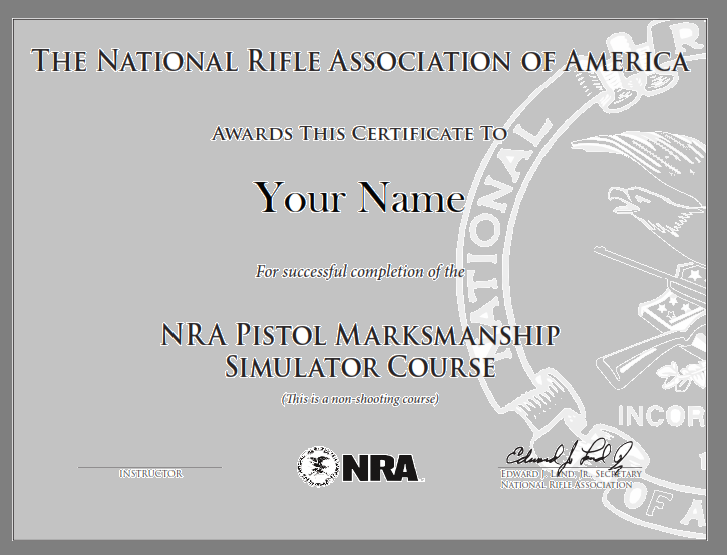 No Classes are currently scheduled. Please call 970-619-8154 or email us at Info@TallGuns.com to inquire about scheduling a course.