Recent News
Tall Guns has been awarded the right to use the By Colorado logo by the byColorado licensing program. This signifies companies that are based, design their products and make their products in Colorado. (10/2014)
Colorado West Firearms Institute has joined the Tall Guns network Affiliated Independent Instructors licensing our Colorado Handgun Permit course program serving Colorado West from the Grand Junction area. (10/2014).
Tall Guns announces a price reduction in its combined Colorado and Utah CCW/CFP Course. The new price is $99.95 for both highly valuable permit course. (08/2014)
Tall Guns now offers certification training for security officers in firearm, baton, handcuff, Taser and OC Spray. (05/2014)
Tall Guns is actively instructing courses at this time (June 2020).
To support the ongoing efforts to control COVID-19, Tall Guns will be limiting class sizes to eight (8) persons. (16 Mar 2020).
Tall Guns is certified as the only TASER certified civilian training academy location in Colorado (10/2012)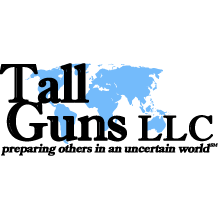 Home Defense - 100 - Defensive Living Series

The Tall Guns Home Defense course is part of our suite of training orientated to defensive living, personal protection and security. It is orientated with the intent to help understand when an event involving your home begins, how to prevent it in advance, understanding the mind of the adversary and if an event happens strategies of protecting your family, other occupants and yourself.

This course is for apartments, condominiums and four wall structures.

The strategies and techniques are not solely focused on firearms for home defense but a wide array of approaches including less and non-lethal options. BUT more importantly how the "hardening" of your home and life style in advance.

This course is four (4.0) hours long which is conducted in a classroom setting.

Students will learn the:
understanding the adversary;

how do we and others view our home;

surveillance sources and availability to others;

developing situaitonal awareness;

life style patterns and related threat potentials;

making the assessment and "the living document" approach

things to do to lessen your home being chosen as a target (hardening);

concept of the "Alamo" in the home;

having a plan for fire, natural disaster, crime activity;

Colorado Revised Statutes related to home defense;

defense approaches in a crime event, the "Alamo", less lethal, lethal

law enforcement interaction;
one day use pass for an indoor range in Loveland;
The scheduled class is taught at our Loveland, Colorado facility or at participating hosting organization location..
No Classes are currently scheduled. Please call 970-619-8154 or email us at Info@TallGuns.com to inquire about scheduling a course.