Recent News
Tall Guns has been awarded the right to use the By Colorado logo by the byColorado licensing program. This signifies companies that are based, design their products and make their products in Colorado. (10/2014)
Colorado West Firearms Institute has joined the Tall Guns network Affiliated Independent Instructors licensing our Colorado Handgun Permit course program serving Colorado West from the Grand Junction area. (10/2014).
Tall Guns announces a price reduction in its combined Colorado and Utah CCW/CFP Course. The new price is $99.95 for both highly valuable permit course. (08/2014)
Tall Guns now offers certification training for security officers in firearm, baton, handcuff, Taser and OC Spray. (05/2014)
Tall Guns is actively instructing courses at this time (June 2020).
To support the ongoing efforts to control COVID-19, Tall Guns will be limiting class sizes to eight (8) persons. (16 Mar 2020).
Tall Guns is certified as the only TASER certified civilian training academy location in Colorado (10/2012)


NRA Shotgun Shell Reloading
Instructor Course
The NRA Instructor Basic Shotgun Shell Reloading (SSR) course is what is referred to as a discipline course. You must have completed and passed the NRA Basic Instructor Training (BIT) prior to taking a discipline. Upon completion of this discipline the Instructor candidate will be able to conduct and instruct the Basic Shotgun Shell Reloading (SSR) course.
Instructor candidates will be provided the appropriate lesson plans and basic course student packets. Role-playing is a major part of an instructor course; therefore, the minimum class size should be at least four candidates, with 10-12 candidates being ideal. Candidates take turns working in teams, actually conducting portions of the course to other candidates who portray basic students.
Training Counselors will
evaluate
candidates' performance based on their ability to handle the firearms with confidence, use of appropriate training aids, following the lesson plans and meeting all learning objectives, while utilizing the teaching philosophies learned during the BIT. Candidates can also expect to learn the NRA discipline specific instructional methods and evaluating and improving the performance of beginning reloaders.
Candidates will be provided with the NRA Trainer's Guide, appropriate Lesson Plans and Outlines, Basic Course Student handbooks, certificates, basic student examinations, Winchester/NRA Marksmanship Qualification Program booklet, Basic Firearm Training Programs Brochure, Gun Safety Rules brochure, NRA Trainer's Examination and NRA discipline specific instructor examination
(minimum passing grade is 90%)
.
The NRA Instructor Basic Shotgun Shell Reloading (SSR) course teaches the basic knowledge, skills, and attitude for owning and operating a Shotgun Shell Reloading (SSR) safely.
Instructor candidates will learn how to instruct :
reloading safety;
center-fire cartridge components
using the reloading manual and reloading data
equipment
Shotgun Shell reloading process
continued opportunities for skill development.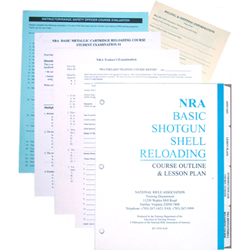 No Classes are currently scheduled. Please call 970-619-8154 or email us at Info@TallGuns.com to inquire about scheduling a course.